06.11.03
Gome of the Week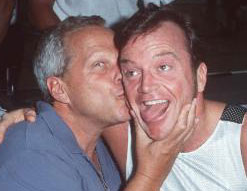 Oh my God, we found out that Tom Arnold is the culprit behind the Arby's oven mitt.
He needs to get back in the car and go to treatment.
This Week's Link That's Probably Not That Great
Modern Drunkard - A hip way to be drunk. Thanks, Lish.
This Week's Movie You've Probably Never Seen

I Like to Hurt People (1985)
This video is exactly what it says it is: ruthless.
Part documentary, part film, "I Like to Hurt People" follows the bloody exploits of The Sheik, the most non-famous wrestler in the whole thing. Watch him jab forks into Dusty Rhodes, Abdullah the Butcher, Terry Funk, Ox Baker, and more. Andre the Giant even makes a weird cameo.
A pseudo documentary about pro wrestling comes off as just bizarre seeing how wrestling is fake and all. Theblood, however, is real. So there.
Love, Biff.
This Week's Record You're Probably Not Listening To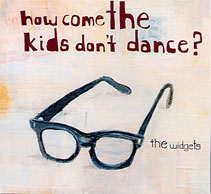 The Widgets - How Come the Kids Don't Dance? (2002)
Biff's top album of 2002 finally makes its appearance here.
David, DigDoug, Nick, and Becki rock like there's no tomorrow. The feel-good summer album. If you don't own this you are not my friend. It's just that good.
"First Grade", "Waltz From Hell", and "Wrath of Zeus" are the greatest songs to ever come out of the cultural mecca that is Salem, OR.
I wish that I could shrink real small just so I could go into the Widgets' pockets their pockets.
Love, Biff.
This Week's Hip New Slang Word or Phrase
soccer legs - The ladies with the thick gams.
Origin - Soccer chicks.
Usage - "Dude, that coug totally gave me the heisman last night."

"Dude, that's untight, but she had soccer legs."

"Dude, she could'a wrapped 'em around me like a vice. It would have been trump teezee."

"Check it Blee, you're better off with a menage a moi."
This Week's Top Ten List
Biff's Top Ten Signs That Wockenfuss Is Losing It:

10. Purchased new Local H EP instead of Goldcard CD.
09. Still reads Spin religiously although he never likes it.
08. Olsen Twins screen saver.
07. Playing and singing "Stuck in the Middle With You" on the acoustic guitar as I'm writing this.
06. Likes The Streets CD.
05. Seriously contemplated purchasing new Radiohead at a midnight sale because "I'll get a bonus 45, dude."
04. Doesn't play new Supersuckers CD when intoxicated at 3am, instead plays old Promise Ring.
03. Isn't vegetarian anymore.
02. Drinks Stoli on the rocks at 3 in the afternoon.
01. Secretly owns Fiona Apple's "When the Pawn" album. Seriously