01.02.13
Gome of the Week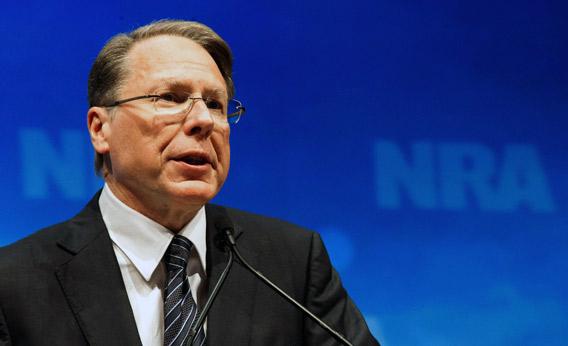 This guy's like a villain from an SNL comedy movie from the 90's.
This Week's Link That's Probably Not That Great
SEM of a Diamond Stylus in the Groove of an LP Record - So that's how it works.
This Week's Movie You've Probably Never Seen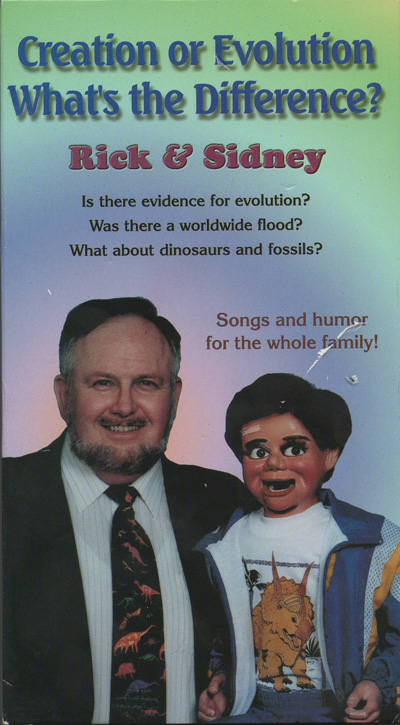 Creation or Evolution: What's the Difference? (2003)
I bought this a year ago at a Goodwill near my house, watched about 15 minutes of it, got freaked out by it, and put it back on my shelf until today, when I finally sat through the whole hour. It was still horrifying, but I was more prepared for it.
I didn't realize until today that this guy is local, and this presentation was actually filmed at a church not far from my house. Portland represent! If we're known for one thing, I hope it's for this guy and his dummy who, through song and humor, explain to us (and a large group of children in the studio audience) that scientists are liars who hand-pick their results so they can "get their college degrees, receive grant money, and get published in magazines."
Diabolical. We're onto you, Big Science!
There's also a large portion dedicated to dinosaurs (their dino-fied wardrobe should have tipped you off to that), in which I learned that Noah probably just brought dinosaur eggs on the ark - not actual dinosaurs - because those are about the size of a football, so there was plenty of room for those. Also, the Bible mentions dinosaurs a bunch of times, you dolt.
And yes, at one point, Sidney does say something like "Evolutionists believe something can come from nothing? And they call me a dummy!"
Also, the Grand Canyon was made by the Great Flood, carbon dating literally does not work, and evolution is impossible and something made up by scientists so they don't have to deal with God's wrath.
I wasn't initially convinced, but the songs were pretty catchy, so they won me over.
I'm piiiiiissed I can't find any video of this online. Because it would haunt you.
This Week's Record You're Probably Not Listening To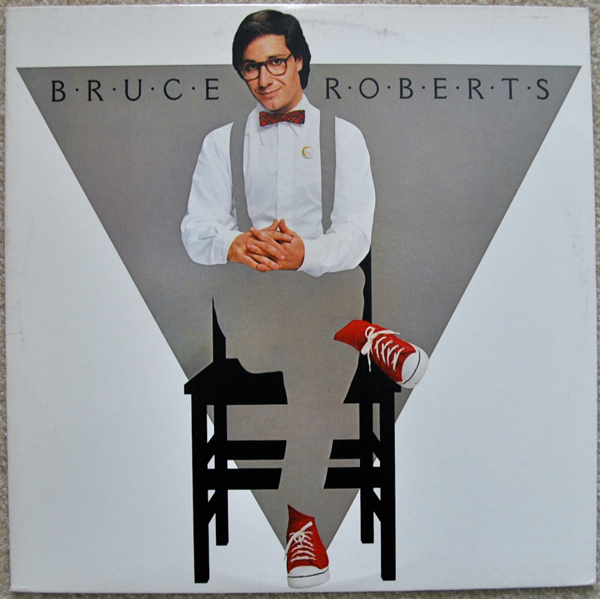 Bruce Roberts - Bruce Roberts (1978)
The late 70's were a great time to be suspender-wearing wuss - just ask Leo Sayer.
Roberts goes full-tilt here, offering up saptastic tracks that make Christopher Cross look like Lemmy from Motorhead.
Also: Ray Parker, Jr. plays guitar on this.
Here's "I Don't Break Easily." Apologies in advance for your ascending testicles.
This Week's Hip New Slang Word or Phrase
Francis Scott Keyed - A sweet way to tell someone you're keyed about something.
Origin - Being super keyed. Also works well with anyone else whose last name is Key.
Usage - "Oh, dude. Another year living in the greatest country in the world. Dude, I am Francis Scott Keyed."
"Dude, I am Alicia Keyed."
"Dude, I am Jimmy Keyed."
"Dude, you are really keyed."
This Week's Top Ten List

The Top Ten Movies I Saw in the Theater in 2012:
10. The Collection - This movie reeks worse than my nuts do.
09. The Dictator - I laughed during this one part.
08. The Expendables 2 - Exactly as ridiculous as I hoped it would be.
07. The Imposter - Creepy documentary about a bold, bold dude. Really good.
06. Searching for Sugar Man - Same description from above, but replace "creepy" with "inspiring."
05. Lockout - If you love action films where the dude makes hilarious quips while dismembering people, this is the movie for you.
04. The Dark Knight Rises - Not as great as we all hoped it would be, but it was damn good.
03. Prometheus - I need to see this again. It's heaaaaavy.
02. This Must Be the Place - Took forever for this to come to the U.S., but it was worth the wait. Really unique.
01. The Master - This movie wins at everything.
Also: Check out my picks for the Top 25 Albums of the Year at Stallion Alert.
Biff's Top Ten New-To-Him Rock Albums of 2012:
10. Anal Traffic- Anal Traffic EP (2005)
09. Defiance- Nothing Lasts Forever (1999)
08. Ten-O-Seven- Chainsaw Orchestra (1991)
07. Leigh Marble- Where The Knives Meet Between The Rows (2012)
06. Imperial Teen- Feel The Sound (2012)
05. The Dickies- Stukas Over Disneyland (1983)
04. Helloween- Pink Bubbles Go Ape (1991)
03. The Monitors- The Fired Dept. (2012)
02. The Reactionaries- 1979 (2012/1979)
01. Unwound- Live Leaves (2012)
*Favorite Rock Song of 2012: Imperial Teen- Runaway
Biff's Top Ten New-To-Him Hip-Hop Albums of 2012
10. MC Ren- Renincarnated (2009)
09. New DQT- New DQT's Neighborhood (2002)
08. Slimm Calhoun- Plugged In (2011)
07. Cool Nutz- Portland Ni%#a (2012)
06. Cappadonna- The Pilgrimage (2011)
05. Mcenroe- Hello, World! EP (2012)
04. 60 Second Assassin- Remarkable Timing (2010)
03. Bugsy Da God- The Seven Angels Of Death EP (2012)
02. Killah Priest- The 3 Day Theory (2010)
01. John Smith- Ol' Man Winter (2012)
*Favorite Hip-Hop Song of 2012: C-Tera- Hood Talk (feat. Shyheim)
Cancel One Career