05.25.11
Gome of the Week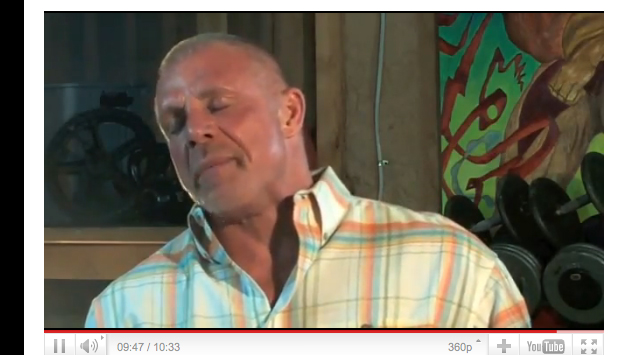 Shockingly, Ultimate Warrior - excuse me, Warrior - has found a way to make this about him.
Cool story, chompers.
This Week's Link That's Probably Not That Great
Machomania 1995 - Even by the mid-90's, Macho could still deliver a promo. Set some time aside and marvel at this vid and the ones that follow it. Amazing.
This Week's Movie You've Probably Never Seen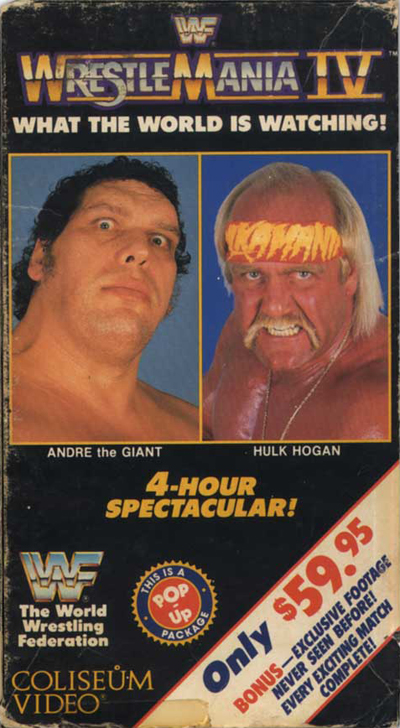 Wrestlemania IV (1988)
I have a vivid memory of watching Wrestlemania IV for the first time and it is still one of my all-time favorite pro wrestling memories.
Wockenfuss and I were never allowed to watch wrestling as young lads as our mom thought it was too trashy. She was probably right. But in 1989, when I was 10, we finally wore her down. We became instant hardcore wrestling fans. I developed an instant obsession with the wrestling of the day, devouring magazines and the weekly episodes of WWF and NWA programming. This was right in the middle of the build up to Wrestlemania V, where Savage, the current champ, was set to do battle with Hulk Hogan, his former tag team partner.
Now, part of Wock and I's obsession led us to renting old WWF videos to learn our history. One such video was Wrestlemania IV. I was especially excited about the double cassette aspect of Wrestlemania IV, as this promised 4 hours of straight wrestling. I was especially excited when I learned that it followed a tournament-style format to crown a new WWF champion.
Wock and I huddled around the TV some late Friday night, microwaved up some grub, and proceeded to have our collective minds blown. I remember thinking early on that Hogan was the clear favorite. How could he not be? I knew that dude had been champ since I could remember. Here is where I should remind you that I was 10 and for whatever reason, I never thought about the fact that Savage was the current champ. It never entered my mind during the entire 4 hour video. This simple fact added to my viewing enjoyment 10-fold. It was like I was watching it live.
Anyways, imagine my surprise when Hogan is eliminated in his very first match. This blew my mind. I now figured that this was anybody's tourney. And from there every match takes on greater significance. I mean, I actually fathomed that Don "The Rock" Muraco could have pulled this thing out. Well, 3 and a half hours later I remember Wock and I glued to the screen as the unlikely underdog, Randy "Macho Man" Savage, headed into the finals against the uber-villain Ted "Million Dollar Man" DiBiase, who had cheated his way to the final championship match. We honestly cheered and jumped up and down when Savage pulled out the victory (only after Hogan interfered, something which always rubbed me the wrong way).
I bought into Savage completely at that moment. He was such a complete stallion. The pink trunks with the stars. The green headbands. Pomp and circumstance. That incredible elbow drop. It all worked on me. And it did something weird to me. It caused me to root for him in '89 and on, even though he was a despicable villain. For a kid in the 80's, that was kind of an odd move. The dude was just that awesome. My admiration of the guy only grew after later seeing Wrestlemania III, but that is a whole other story...
(Also, Wrestlemania IV is notable for having no lame matches in 4 hours. There is a sweet battle royal. A grudge match between Ultimate Warrior and Hercules. Demolition winning the tag titles. "The Natural" Butch Reed, One Man Gang, Bam Bam Bigelow, Andre The Giant, Jake "The Snake" Roberts, "Ravishing" Rick Rude, Ricky "The Dragon" Steamboat, this thing plays out like the 1988 Stallion Convention. You should make a point to see this at some point in your empty and meaningless life)
Love, Biff
This Week's Other Movie You've Probably Never Seen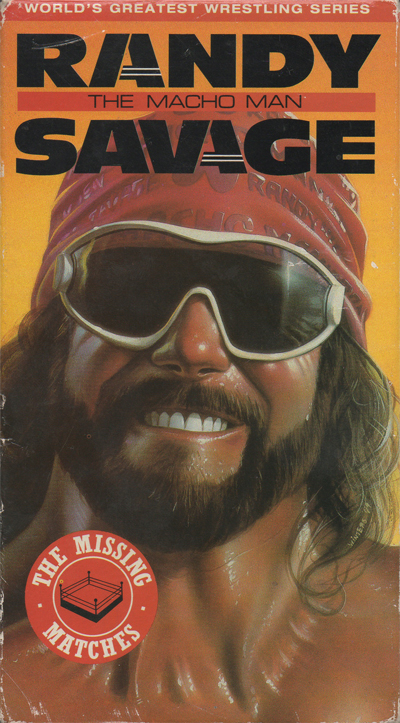 Randy "The Macho Man" Savage: The Missing Matches (1989)
In a perfect world, I would have a huge, almost mural-sized version of the painting on the cover of this video mounted on the wall in the front room of my house, so the first thing everyone would see when they came over was Macho Man's sweaty mug and bulging neck veins. It would act as coolness litmus test, and those who scoffed would quickly be met with a Savage-style snapmare, followed quickly by a running knee to the back after they got up, and then I would take them, half-unconcious, to the front yard, where I would lay them in position, climb to my roof, and drop the elbow in front of the neighborhood kids. Because that painting is awesome, and if you don't think so, you need to be taught a lesson.
Another lesson to learn: the best thing about this video is the cover. It contains three matches, and Savage is in two of 'em. Yep, for this 31-minute extravaganza, they could only come up with two matches that actually feature the dude on the cover. The third is The Fabulous Ones (Stan Lane and Steve Keirn, erroneously listed on the back of the box as "The Fabulous Blondes") vs. PYT Express (Koko B. Ware and Norvell Austin). It's a pretty sweet match, but no Savage in sight.
The two Savage-involved matches here, though terribly edited, are cool enough. They both (along with the third) seem to be '83-'84-era Mid-Atlantic bouts, which is a quality time/region for the sport. The first is a cage match against Jerry Lawler, and in the second, Savage teams up with his brother "Leaping" Lanny Poffo to take on the Rock & Roll Express. In a series of events that everyone sees coming, Ricky Morton gets pummeled for ten minutes straight before Robert Gibson finally catches the hot tag and comes in and cleans house, just to see the match end in a disqualification.
So, bottom line: This video, if you can find it for a buck like I did, looks great on a shelf. But you aren't going to want to watch it more than like three, maybe four times.
This Week's Record You're Probably Not Listening To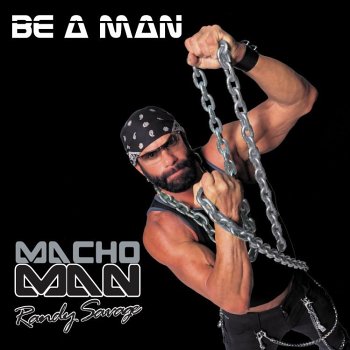 "Macho Man" Randy Savage - Be a Man (2003)
Yes, we featured this album eight years ago, but there was no chance I wasn't going to bring it up again. Be a Man remains one of the most mesmerizing, unreal contributions to music since Hulk Hogan and the Boot Band's Hulk Rules (which we featured over nine years ago - yikes).
Savage doing a one-off rap song would have been one thing, but kicking out a full 14-track CD was dedication to rap that none of us saw coming. He kept claiming there was a follow-up in the works, but sadly, it never materialized. You can find clips for all these tracks on YouTube, but may I suggest you start with "Remember Me"? Seems appropriate.
This Week's Hip New Slang Word or Phrase
Like the momentum, yeah! - A sweet way to describe enthusiasm for momentum.
Origin - This interview that I jacked from an old VHS tape from Biff and I's personal collection and posted on YouTube.
Usage - "Oh, dude. Since the tragic passing of Randy Savage, I have become even more excited about finally completing my collection of original clamshell WWF Coliseum VHS tapes."
"Dude, use this terrible event as a jumping-off point to your collecting goals."
"Dude, I'm feeling momentum like I've never felt before."
"Dude: like the momentum, yeah!"
This Week's Top Ten List

The Top Ten "Macho Man" Sunglasses That Must Have Been Virtually Impossible to See Through:
10.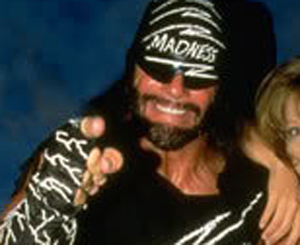 09.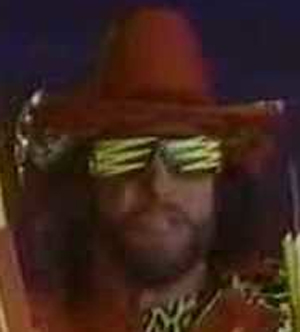 08.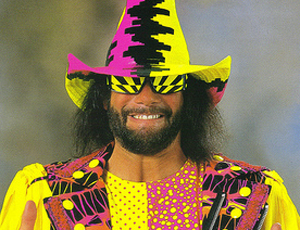 07.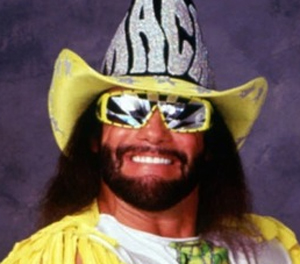 06.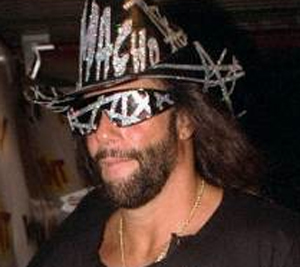 05.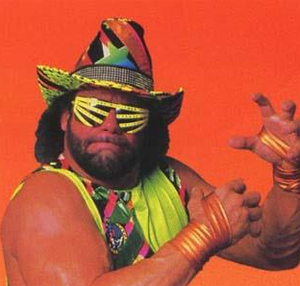 04.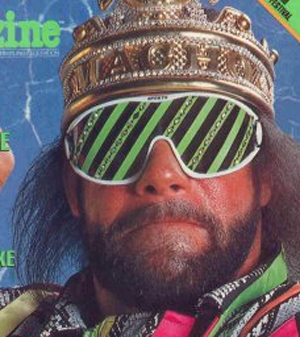 03.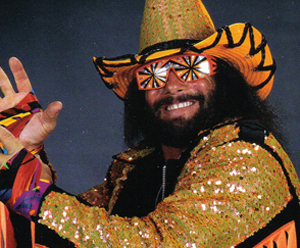 02.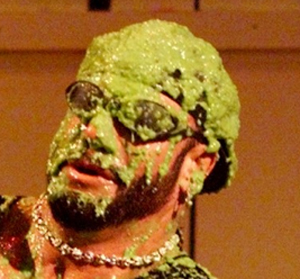 01.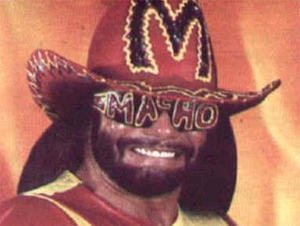 Cancel One Career