04.13.11
Gome of the Week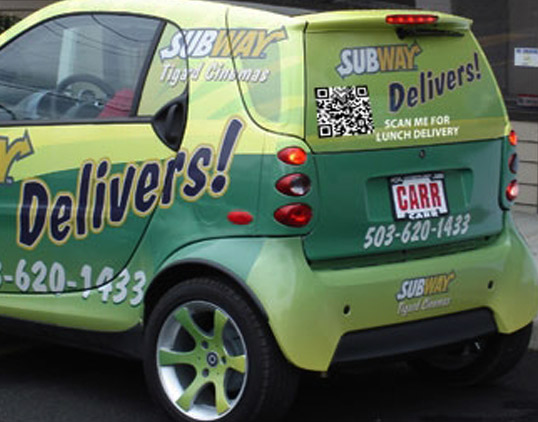 Super-stoned, on-the-couch me's dreams come true.
About 15 years too late.
Damn you, sandwich artists!
This Week's Link That's Probably Not That Great
Old Car Brochures - I'm not a car guy, but I still find this to be very cool.
This Week's Movie You've Probably Never Seen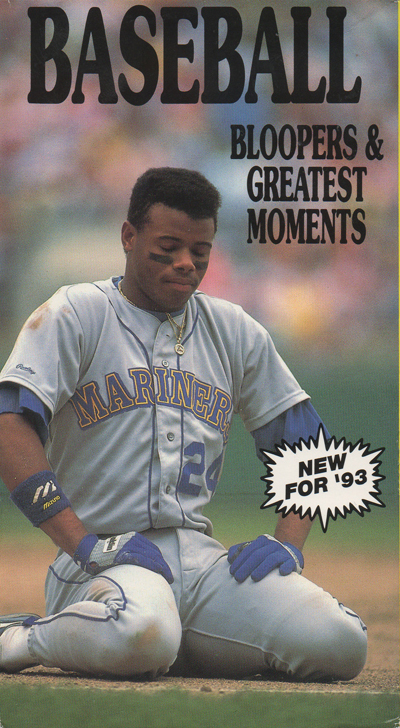 Baseball Bloopers & Greatest Moments (1993)
Since baseball season is now officially underway, I thought this would be an appropriate video for this week. Never did I expect I would have so much fun.
Do you remember that character that Rob Schneider did on SNL in the early 90's where he was the sports blooper guy who would clown dudes for things that commonly happen in sports? That was basically this movie.
The "bloopers" were mostly dudes booting ground balls or not making tough plays in the infield. And, they were 80% minor leaguers. One blooper was a guy getting hit in the head with a fastball. Another one was a catcher getting full-on mowed down at home plate and not appearing to get up. And at the end, there was footage of a fan falling over the rails of an upper deck and hanging by it. Seriously.
Man, I have so much to say about this thing. OK, other stuff: This is what the tape looks like. See how much videotape is in there? This movie is literally 21 minutes long. Yeah, they bought tapes from the store and stamped them.
All of the footage was obviously from the late 80's/early 90's, except for like 30 seconds, which appeared to be an amateur Super-8 clip from the 60's.
Ken Griffey, Jr. does not appear in this film. And if that cover is supposed to depict him having a blooper or a great moment, that's a swing and a miss. Also, clearly none of this is licensed by the MLB, even though there is a good chunk of major league footage in this. Looks like they got in trouble at some point. Clever fix, guys!
From the back: "Classic bloopers that have made the game so great are here - like George Brett's pine tar incident and Gaylord Perry's spitball technique." Neither of those events are in this film. They then go on to refer to the video as Baseball - Balls, Bats, and Bloopers!. Suggested retail: $24.95.
I bought this from a store that had at least two other videos in this same series - one was hockey and I think the other was basketball. I'm going back in the next few days to see if they're still there. This was too good. And I'm just scratching the surface here. You gotta come over and watch this sometime.
This Week's Record You're Probably Not Listening To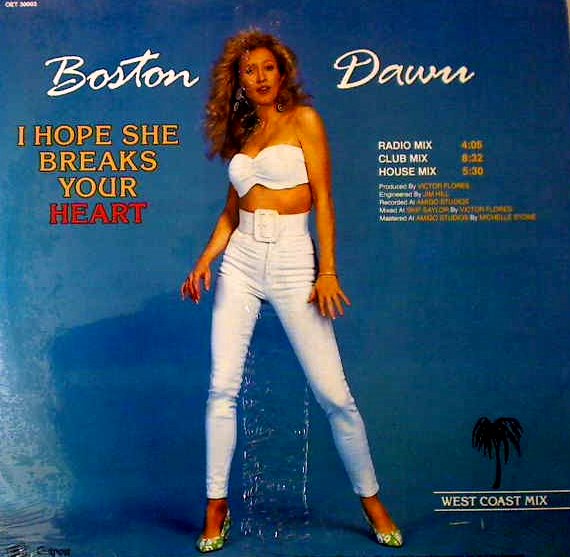 Boston Dawn - I Hope She Breaks Your Heart (1989)
I bought this 12" single when I was in Philadelphia a few weeks back, and as of about an hour ago, it was sealed. But, I had to open it up. Glad I did, because it's on sweet white vinyl and comes with an entry form to win a trip to either the West Coast or the East Coast, depending on my preference.
See, this side of the record is the "West Coast Mix" (white tube top, sweet belt), while the other side is the "East Coast Mix" (classy black dress). Not sure if an artist with a city in their name is the best choice to be asking people to pick coasts, but whatevs.
Remember when "freestyle" was a genre for like six months? You Lisa Lisa and Cult Jam fans know what I'm talking about. This is that. And there are six versions of this song on this single. And they are all as tight as Dawn's pants. Yahtzee!
This Week's Hip New Slang Word or Phrase
Rube Waddell - A rube of hall-of-fame proportions.
Origin - The Sousepaw.
Usage - "Oh, dude. This weekend I am going to get drunk and shirtlessly drive a riding mower around my neighborhood until I get arrested or kill someone."
"Dude, did you pitch for the Chicago Orphans in 1901?"
"Dude, I did not."
"Well dude, I'm going to go ahead and refer to you as Rube Waddell anyway."
This Week's Top Ten List

The Top Ten Signs It Is Record Store Day:
10. Streets are covered in a fine dusting of beard dandruff
09. Cops are called to a disturbance and find two 300-lb men engaged in a knife fight over the final copy of a 180-gram Electric Wizard reissue
08. Sidewalk shanty towns constructed from used copies of Carole King's Tapestry
07. The smell of stale pee and basement wafts violently through the air
06. Man overheard questioning the seemingly endless relevancy of Psych/Garage as a genre is quickly overtaken by an angry mob, who proceed to asphyxiate him with ultra-rare, original-issue Sonics 45s
05. Wax cylinder fanatics take to their telegraphs to vent disdain for this most mainstream of abhorrences
04. Savvy pot dealers hover outside shops, keeping close watch for anyone who picked up the 5-LP Flaming Lips box set
03. Guy with matted hair and soiled jean jacket keeps cornering female clerks and explaining to them in great detail exactly how he turned his Harvey Milk cassette into a "sweet medallion"
02. Steve Albini makes rare public appearance, shocking the crowd by taking wagers on how many 7-inch adapters he can fit in his mouth
01. Girlfriends everywhere get a few hours at home alone, and finally get to play that Adele CD their friend burned for them two years ago
Cancel One Career