03.14.10
Gome of the Week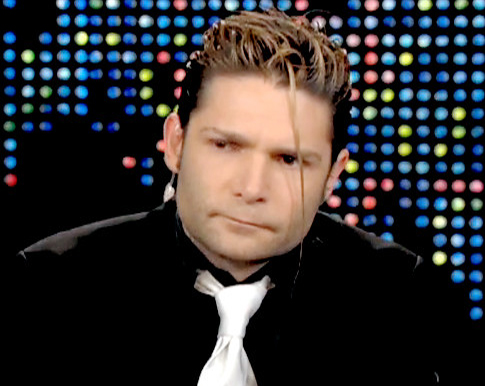 Corey Feldman went on Larry King this week and scolded Corey Haim's fans for not helping the Haimster when he was down and out, struggling to get by in an apartment with his mom.
No word on where Feldman - who apparently was, unlike Haim's fans, privy to Haim's home address - was during this time.
There's speculation that he was styling his hair.
This Week's Link That's Probably Not That Great
Crazy 4 Corey - I love these old Tripod sites.
This Week's Movie You've Probably Never Seen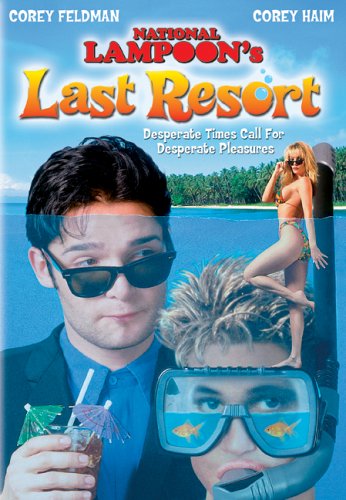 National Lampoon's Last Resort (1994)
What better way to pay tribute to the Haimster then to spotlight one of his finest cinematic moments, the oft-forgotten "National Lampoon's Last Resort." This was one of the last Corey movies and it is a doozy. What makes this movie so enjoyable is that it is fully aware of the fact that it is bad. The characters often talk to the camera, there are oodles of bad jokes and the film never takes itself too seriously. The plot is flimsy here but it exists. Feldman and Haim are down on their luck and decide to go work for Feldman's uncle's island resort. Turns out the uncle is a famous ex-movie star who always played a buccaneer. The odd part? The villain is the uncle's nemesis from his old movies. Like, their fake rivalry has spilled out into real life. Shenanigans ensue with hired goons, talking parrots, dream sequences and fake bus rides. Haim shines as the rebellious Dave who loves to wear sleevless t-shirts and beg girls to sleep with him. Dread Zeppelin supplies the theme-song, which is annoyingly catchy.
As far as post-fame Haim movies go, this one is by far one of the more enjoyable. It is somewhat easy to find and is entertaining if nothing else than for the tone of the picture which seems to be in on the joke. Oh, and Feldman is in straight up Michael Jackson clothes in most of this. So, yeah.
Long Live Haim!
Love, Biff.
Previous Corey Haim Movies You've Probably Never Seen are here, here, here, here, and here.
Down since day one.
This Week's Record You're Probably Not Listening To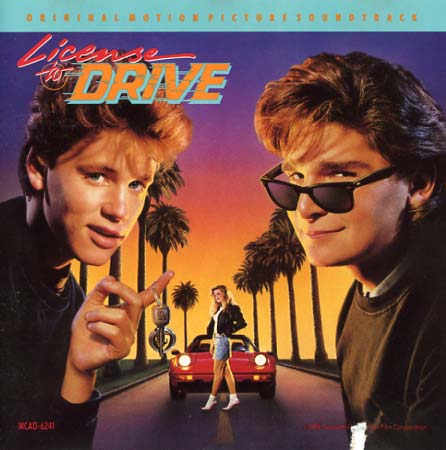 V/A - License to Drive (1988)
If you were alive in 1988 then you know that mainstream music was straight up awful at this time. Soundtracks back then were not the moneymaking endeavors they are now so you often got second-tier talent's non-album worthy songs. And that is basically what you get here. The Breakfast Club kicks things off with a horrible version of The Beatles' "Drive My Car" (Get it? The movie's about cars! Whoa!). Brenda K. Starr and Belinda Carlisle come in and deliver what seems to be a neverending barrage of late 80s keyboard pop music (Carlisle's song is 7 minutes long). The Boys Club slows things down with a schmaltzy ballad before Billy Ocean steps in and performs, wait for it, Get Out Of My Dreams And..., wait for it, Get Into My Car. You know. Because the movie is about cars. New Edition contributes a throwaway before the oddest moment. A 4 minute song of DJ Jazzy Jeff scratching records. In the film it makes sense but here it just seems odd. Remember how I talked about second-tier talent? This thing is rounded out by some lower level glam bands doing their crappy late 80s hair band thing. Have you ever heard of Femme Fatale or Slave Raider? Well then your life has problems.
Yes, I own this. Why? Because this movie rules, that's why.
Long Live Haim!
Love, Biff.
This Week's Hip New Slang Word or Phrase
I was Lucas out there - A sweet comment David Spade made one time about trying out for football. Great to use after you've just been outmatched at something you had no business doing in the first place.
Origin - Spudley, Corey Haim as Lucas.
Usage - "Oh, dude. My new girlfriend is a go-getter. She's even on a field hockey team."
"Dude. Girls running in skirts. Sounds erotic."
"Dude, it's not. They had me fill in for a practice last week and I got stomped repeatedly. Cankles to the grill. I was Lucas out there."
"Dude, that sounds even more erotic."
This Week's Top Ten List

The Top Ten Things We Did When We Heard About Corey Haim's Passing:
10. Broke out all our old copies of Non-Threatening Boys Magazine
09. Used it as an excuse to call Meredith Salenger and see how she's holding up
08. Put a beta copy of Watchers on eBay with a starting bid of $500
07. Strapped on the fruit boots, got under a blanket, and watched Prayer of the Rollerboys
06. Became re-embroiled in age-old debate: If Haim got into so much trouble at Demolition High, then why in the hell did they let him into Demolition University?
05. Instead of saying "hey" to people, started saying "Haim" to see if they'd notice
04. Hunted a few vampires, but our hearts just weren't in it
03. Renamed our dog "Dinger"
02. Considered all the trouble that Charlie Sheen's in, began theorizing the "Curse of Lucas"
01. Dreamt a litte dream, and then dreamt a little dream again, but it wasn't as good the second time
Cancel One Career