04.05.09
Gome of the Week

Billy Bob Thornton and his Crap Band got booed off the stage in Toronto this week after he clowned Canadians and acted like a supreme dick in an interview.
Luckily, his hair plugs were unharmed.
Good to see you're keeping things in perspective, Bill!
This Week's Link That's Probably Not That Great
Entire Wolverine Movie Leaked Online - Click if you dare!
This Week's Movie You've Probably Never Seen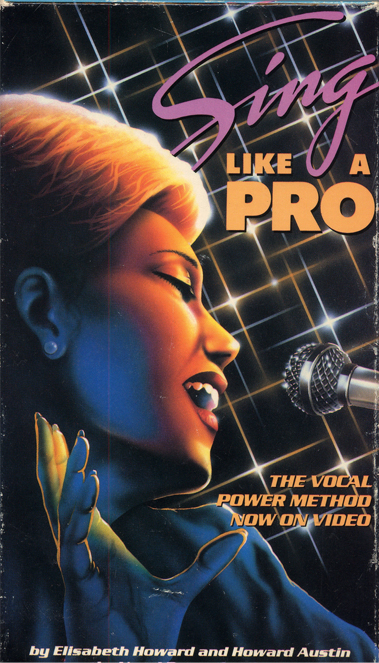 Sing Like A Pro (1991)
I'm really frustrated, because it's going to be impossible for me to explain just how hilarious this movie is without the aid of clips or screen caps. If I wasn't such a lazy bastard, I'd upload some clips to the web, but that's a huge process, and it's late. So, you'll have to take my word for it, but I'll see what I can do.
Elisabeth Howard and Howard Austin (no relation!) have B.S. and M.S. degrees, respectively, in voice from the Juilliard School of Music. Apparently their studies took a back seat to personal appearance, because Elisabeth is strangely incapable of applying her makeup without clumps, and Howard's perm is frizzy and crooked. Oh, and they're both really shitty singers.
Over the course of an hour, they take you through countless vocal exercises, all designed to help you sing songs so bland and lifeless that Glen Campbell wouldn't touch them with his gallon bottle of rum. Yet, I was literally guffawing at parts of this tape. When they put one earpiece of the headphones up to their head and sing in unison, the resulting sounds (coupled with the picture of these two weirdos trying to look like "pros") are brutally hilarious.
And the guttural sounds they want you to make in the vocal warm-ups are reminiscent of the noises people make when they're poking a drunk person and trying to wake them up. "Ay, ay, ay, ay..." Oh, it's too good. I wish you could see it!
This Week's Record You're Probably Not Listening To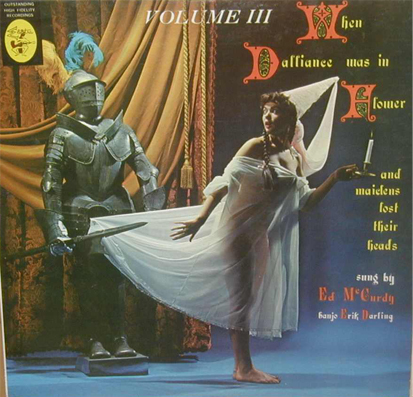 Ed McCurdy - When Dalliance Was In Flower, Volume III (1959)
Do you ever hear old comedy (usually pre-60's), find nothing funny about it, and wonder if the problem is that it's terrible or simply that you don't get the jokes? This record is somewhere in between: I can't even figure out if it's supposed to be comedy or not.
The cover is playful...or is it supposed to be provocative? I can't tell. The songs are played on banjo (a common comedy tool), sung about maidens, and references to breasts and buttocks are not uncommon. Yet some of the songs seem quite straightforward and harmless enough to be traditional folk songs. Yet I doubt traditional folk songs would be popular enough to warrant three volumes. I'm vexed. Good thing I'll forget all about this in about ten minutes.
This Week's Hip New Slang Word or Phrase
put up your dick beaters - A sweet way to challenge someone to a fistfight and insult them at the same time.
Origin - Big Daddy Kane, Looks Like a Job For... era.
Usage - "Oh, dude. I am a huge fan of the new crop of movies that are remakes of movies that were already made. They are trump teez."
"Dude, you are part of the problem. I blame society as a whole, but I also blame you specifically."
"Dude, the new Karate Kid remake is going to be better than the original."
"That does it. Put up your dick beaters."
This Week's Top Ten List

The Top Ten Highlights From The First Three Sticks Downey Shows:
10. Eating the Tree Hugger pizza at the Old School Pizzeria in Olympia while a life-size poster of Hulk Hogan stared down at us. That's pizza, brother!
09. Showing up at the gig in Olympia to find a poster for the show that had us listed as Cool As Cucumbers. I can't even begin to explain how many things are wrong with that
08. Seeing Dr. Don for the first time in like seven years. He's still operatin'!
07. Watching local MC L-Train rep the mean streets of Salem at The Space, then forget his lyrics, then freestyle about eating glue
06. Actual conversation heard while unloading the tour van outside the Salem show:
"Should I grab the keyboard?"
"Nah."
"What about the wigs?"
"Yup."
05. Watching Coolzey perform a half-hour of standup comedy in Salem, 15 minutes of it with his pants around his ankles
04. Scrambling to find a P.A. before the show in Portland. Reminded me of when I roadied for Black Flag in '81
03. Hearing So Sadly Fucked do a spot-on acoustic version of TI's "Whatever You Like" three nights in a row
02. Performing under a painting of Eazy-E in heaven drinking a 40 of OE
01. The post-show orgies. Oh, how I missed those
Cancel One Career