12.28.08
Gome of the Week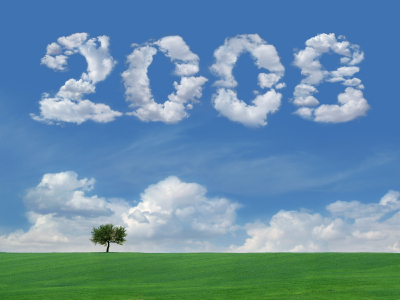 I can't lie: I actually had a great year in 2008. But, I'm constantly being reminded that I'm one of the lucky ones, and that I should just keep my fat trap shut.
Let's hope the aught-niner finds us all getting our shit together.
This Week's Link That's Probably Not That Great
50 Things We Didn't Know A Year Ago - Oh, the progress of it all!
This Week's Movie You've Probably Never Seen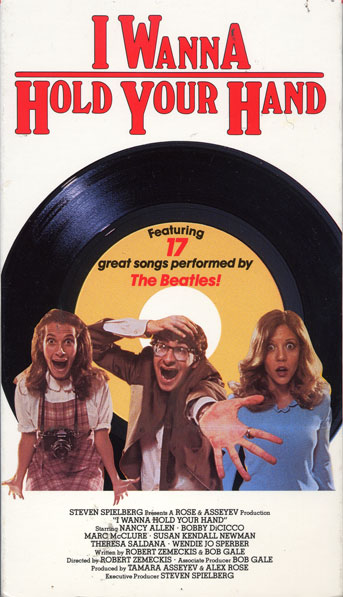 I Wanna Hold Your Hand (1978)
Quick, cast of I Wanna Hold Your Hand - stand up if you didn't team up with Robert Zemeckis, Bob Gale, and Steven Spielberg a year later to appear in 1941.
Sit down Mark McClure! We all know you didn't work with them again until 1985's Back to the Future!
So, yeah, this was Robert Zemeckis's first major motion picture, and though it's no BTTF, it's certainly no Used Cars, either. In fact, it's actually a really fun movie. Here's the setup: it's February 9th, 1964, and a group of Jersey teens make it their mission (for various reasons) to get to NY and see the Beatles perform on Ed Sullivan. Madcap antics ensue, the word "shit" is said enough times to make me happy but not so many times that it loses all meaning, and we get one step closer to finding out who the fuck Murray the K is.
Of course, it wouldn't be an early Zemeckis/Spielberg collabo without Wendie Jo Sperber (may she rest in peace), and she easily steals the show in this, her first big time acting role. As you can see from the cover there, Eddie Deezen also makes an appearance, playing a Beatles collector selling such priceless gems as a square foot of sod that Paul stepped on.
Thankfully, they use real Beatles songs, and real footage of the Fab Four's first visit to the States. And yes, pretty much all of these people would be in 1941 a year later, trying desperately to keep Belushi sober enough to seem talented.
This Week's Record You're Probably Not Listening To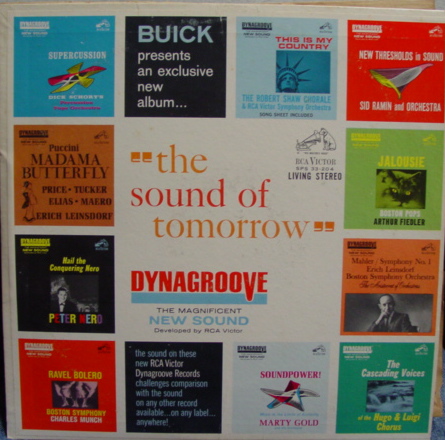 Buick Presents - The Sound of Tomorrow (1965)
I think the sound of tommorow refers to the Dynagroove technology the world was so abuzz about in the 60's, because the tunes on this one aren't much more than classical string numbers, and slow waltzy ones at that.
I don't have any idea as to what Buick has to do with any of this. My best guess is that they gave these out with test drives or something. On the back, under the bios of all the contributing artists, there's a picture of a cherry 1965 Buick Riviera, with the caption: "Buick...The Ride of Tomorrow - Today!"
Those ad wizards always have a way of tying things together.
This Week's Hip New Slang Word or Phrase
McClaning (pronounced mc-clayn-ing) - A sweet way to describe the dialog of a character in an action movie who manages to make witty quips (often to himself) while he is constantly on the verge of having his brains spilled.
Origin - Die Hard (John McClane, if that wasn't crystal clear). Also, Ben Stiller's greatest performance ever.
Usage - "Oh, dude. You know how I loves me some Tim Hutton, right?"
"Dude, you are a Hutton fan, through and through."
"Well, dude, I watched that new "Leverage" show he's on, and it's nothing short of annoyingly brotastic. He and his crack team of do-gooding thiefs McClaned their way through the whole damn show."
"Dude. Yippie-ki-ay, mother humper."
This Week's Top Ten List

BTB's Top Ten Albums of 2008:
10. Motorik - Klang!
09. Coolzey - Soixante-Neuf EP
08. Mokadas - Mokadas
07. Black Francis - Svn Fngrs
06. Vampire Weekend - Vampire Weekend
05. Beck - Modern Guilt
04. Supersuckers - Get It Together
03. Paris - Acid Reflex
02. TV On The Radio - Dear Science
01. Stephen Malkmus & the Jicks - Real Emotional Trash
Read my detailed summary here.
Reissue of the Year: Pavement - Brighten the Corners: Nicene Creedence Edition/Live Europaturnén MCMXCVII
Cancel One Career