12.31.03
Gome of the Week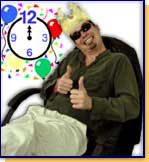 New years resolutions:
You know you can never keep them.
This Week's Link That's Probably Not That Great
The New Year - Everything you ever needed to know about the new year.
This Week's Movie You've Probably Never Seen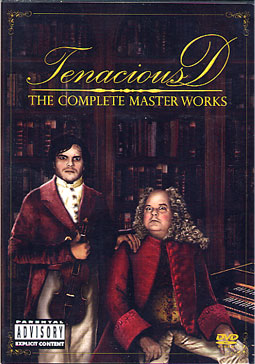 Tenacious D: The Complete Master Works (2003)
You can try not to like the D, but you gotta admit they are damn funny.
I got this for Xmas, and I mostly wanted it for the short lived HBO series which is included here in its entirety.
Also includes some concert footage and some other random stuff like videos and what not.
Jables and the Rage.
Worth the wait.
This Week's Record You're Probably Not Listening To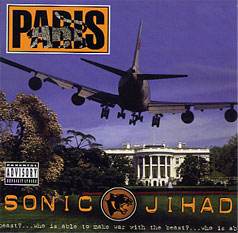 Paris - Sonic Jihad (2003)
Paris is back and mad as hell. About time. As expected, he attacks Bush, the war, and the government in general.
With some help from Public Enemy and Dead Prez, Paris brings the hip hop the way it should be.
I was waiting for Sleeping With The Enemy part II, and this is it.
Check late January for deluxe editions of his previous releases. Worth the money and the wait. One of the best rappers that you have probably never heard.
This Week's Hip New Slang Word or Phrase
new year's cleave - What the ladies show so they can insure a smooch at midnight.
Origin - December 31st.
Usage - "Dude, that coug I was with last night had it on like Donkey Kong."

"Really."

"Yeah dude, she was a little whiskey tango but damn, she had some new year's cleave."

"Nice, dude."
This Week's Top Ten List
biff's top ten hip hop cds of 2003:
10. rza: birth of a prince
09. cappadonna: the struggle
08. daz dillenger: dpg: u know what im throwin up
07. raekwon the chef: the lex diamond story
06. ugly duckling: taste the secret
05. inspectah deck: the movement
04. killah priest: black august
03. 9th prince: granddaddy flow
02. mcenroe: disenfranchised
01. outkast: speakerboxxx/ the love below(mainly speakerboxxx)
Honorable mention: frukwan: life, randy savage: be a man(seriously),
satchel paige: guy, im from here, bumpy knuckles: konexion
dishonorable mention: lordz of brooklyn: graffiti roc, black eyed peas: elephunk,
styles of beyond: megadef, mathematics: love hell or right(this should have been
so much better)
biff's top ten rock cds of 2003:
10. jessy moss: street knuckles
09. joe jackson band: volume 4
08. supersuckers: motherfuckers be trippin
07. the coral: the coral
06. tomahawk: mit gas
05. kaito uk: band red
04. weird al yankovic: poodle hat
03. the beatles: let it be....naked
02. grandaddy: sumday
01. goldcard: goldcard
honorable mention: superchunk: cup of sand(b sides collection), a minor forest:
so, they were in some sort of fight?(also a b sides collection, this album is genius)
dishonorable mention: corey feldman: former child actor
Brads Top Ten CDs of 2003:
10. Local H: the No Fun EP
09. Kings of Leon: Youth and Young Manhood
08. Paris: Sonic Jihad
07. Radiohead: Hail to the Thief
06. Blur: Think Tank
05. Cat Power: You Are Free
04. Stephen Malkmus and the Jicks: Pig Lib
03. 50 Cent: Get Rich or Die Tryin'
02. Supersuckers: Motherfuckers Be Trippin'
01. Outkast: Speakerboxxx/The Love Below