11.26.03
Gome of the Week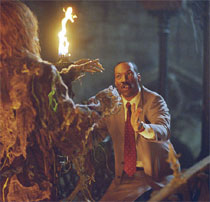 Eddie Murphy in The Haunted Mansion:
A spooky movie for the Xmas season. Ouch.
This Week's Link That's Probably Not That Great
Leonard Nimoy Sings The Ballad of Bilbo Baggins - Star Trek meets the Lord of the Rings. Geek out.
This Week's Movie You've Probably Never Seen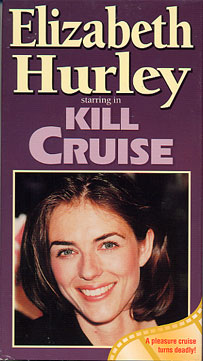 Kill Cruise (1990)
Liz Hurley and Patsy Kensit star in this semi-riveting thriller about a tragic drunk boat trip.
Somehow, not as bad as I thought it would be, and I can say that because I watched almost a half hour of this bad boy.
Also features Jurgen Prochnow, who Biff might remember from some small role in Judge Dredd.
I couldn't find a Thanksgiving movie that was suitable, and I apologize for that.
Bring on the drunken boating!
This Week's Record You're Probably Not Listening To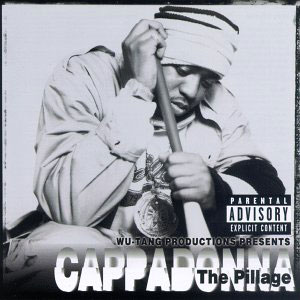 Cappadonna - The Pillage (1998)
Cappa Don Cappa Don.
Biff and I just went and saw this man live in and person and it reminded me how much I love this record.
This is one of the last great solo Wu records and I cherish it.
Check "Dart Throwing" and "Oh-Donna" and you'll see what I'm talking about.
Pure unbridled madness, Shaolin style.
This Week's Hip New Slang Word or Phrase
oh doctor - A great preface to a brash statement.
Origin - Sports commentators.
Usage - "Dude, that coug I was with last night had a fat lbst."

"Dude, geek."

"It was confusing, and I haven't been drinking the haterade."

"No need to. She might be an honorary member of dude patrol."

"Oh doctor, you pulled that out of your ass like anal beads!"
This Week's Top Ten List
The Top Ten Slang Terms for Beer:

10. hop juice
09. liquid sleep
08. the remedy for empty bladder syndrome
07. the bridge that I crossed to losing my job
06. the key to malty man love
05. barley in a funnel
04. post-party cologne
03. wine's poverty stricken brother
02. formula for naked frat fun
01. the blood of the brew dude