10.29.03
Gome of the Week

Kevin Smith's new movie is going to be PG-13!
Dude, it's over.
This Week's Link That's Probably Not That Great
Strip Tetris - Tetris and nudity. My life is complete.
This Week's Movie You've Probably Never Seen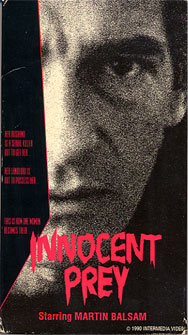 Innocent Prey (1984)
In a weak attempt at some Halloween horror, here's an Australian b-movie gem from 1984.
It's actually not that bad. A woman witnesses her husband killing a hooker while he's having sex with her in a hotel room in the first fifteen minutes of the film and then the madness ensues from there. He breaks out of the insane asylum, seeks revenge on her for telling the cops, etc.
Features P.J. Soles, who played Riff Randell in Rock 'N' Roll High School. Maybe Biff knows who she is?
It is she who is the Innocent Prey. Da-Dum!
This Week's Record You're Probably Not Listening To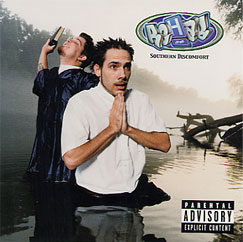 Rehab - Southern Discomfort (2000)
I wouldn't pay more than a dollar for an album like this, and that's exactly what I paid. It's rap-rock lameness.
But, I'll tell you why I got it: In a bizarre match-up, it actually features Cee-Lo and Big Gipp from Goodie Mob on the 3rd track, "Storm Chaser." So I was intrigued.
I didn't expect much though, from song titles like "Drinkin' Problem" and "Kick My Ass."
These dudes are crazy!
This Week's Hip New Slang Word or Phrase
the flying burrito - The flying forearm. Not to be taken lightly.
Origin - Tito Santana aka Chico Banana.
Usage - "Dude, that coug I was with last night was a total 'roke ho."

"Dude, you should have been Bolton like Michael."

"I wanted to, but first, I wanted to give her the perfect plex."

"Dude, was it on like Donkey Kong?"

"No, she was too big. I had to settle for the flying burrito."
This Week's Top Ten List
The Top Ten Worst Halloween Treats:

10. chocolate covered olives
09. warm shrimp
08. a small bag of mixed nuts and bolts
07. a Lauryn Hill album
06. a handshake
05. rock flavored rock candy
04. Uncle Morty's "warm nuts"
03. kids still drink gin and juice, right?
02. Joe Rogan's Fear Factor grab bag
01. nutria jerky