03.05.03
Gome of the Week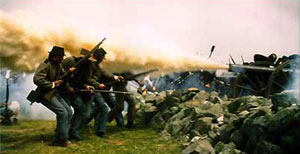 The Movie Gods and Generals:
wow. a pro-south slant, huh? the worst three and a half hours of my life. i want my 6.50 back.
This Week's Link That's Probably Not That Great
Wu-Tang World - quite possibly the greatest website of all time. biff goes there daily. literally. he's just that excited about the upcoming 9th prince solo album. aren't you?
This Week's Movie You've Probably Never Seen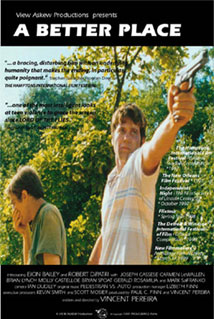 A Better Place (1997)
this was written and directed by view askew "historian" Vincent Pereira and was surprisingly much better than the other view askew related crap out there i.e. "drawing flies", "big helium dog", "vulgar" etc..
What you need to know is that this is available on special edition dvd, doesn't totally suck, and comes with the standard Jason Lee cameo.
Also co-stars his ex-wife Carmen. oh the gossip!
This Week's Record You're Probably Not Listening To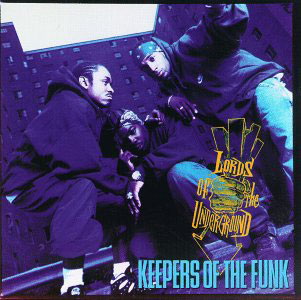 Lords of the Underground - Keepers of the Funk (1994)
ah, the awkward second album. doitall, lord jazz, and mr. funkyman (possibly the worst name in rap since stepdaddy) return two years after their debut with this marley marl produced lp.
anything of marley marl's from '94 (da youngstas' 2nd album) is awesome and this doesn't dissapoint.
biff found it for two bucks, so should you.
This Week's Hip New Slang Word or Phrase
driving like Popeye - When one is so drunk that he/she must drive with one eye shut.
Origin - Cadeezee.
Usage - "Dude, you were pretty ham-hocked last night."

"Dude, you should have seen me on the way home. I was driving like Popeye, dude."

"Good one, dude."
This Week's Top Ten List
biff's top ten reasons that he can think of to explain why wockenfuss hasn't updated the website in nearly two weeks:

10. heavy drinking
09. six feet under season 1 dvd set
08. still mourning death of mr perfect
07. heavy sleeping
06. moving up in karaoke underworld; now a "made guy"
05. he just fixed his old school nintendo
04. he borrowed my super mario 3 for said nintendo
03. can't get out of bed due to over-excitement since learning that the movie "weight of water" stars sean penn and a topless elizabeth hurley. it's rumored that he is repeatedly muttering "there is a god, there is a god"
02. can't think of a word of the week that is funny without being dirty
01. porn