12.22.02
Gome of the Week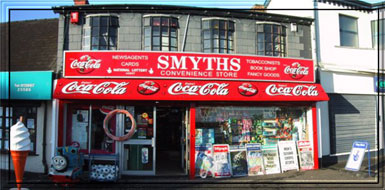 Convenience stores that don't sell porn:
Lame!
This Week's Link That's Probably Not That Great
Turkish Star Trek - Good times. Thanks to Coonfield for this gem.
This Week's Movie You've Probably Never Seen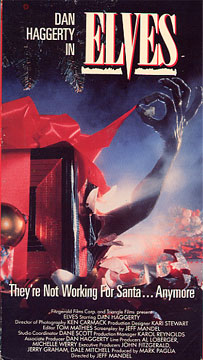 Elves (1989)
Here's the last one in our installments of Christmas flicks for y'all to check out.
For those of you who don't know who Dan Haggerty is, he's the one and only bearded genius who played TV's Grizzly Adams for a while in the late 70's.
"These hideous creatures don't work for Santa....they have a special mission: to mate with a virgin and take over the world as a pint-sized master race!"
Um, alright. Anyway, Grizzly stars as a department store Santa(that's a strech) who must save the day.
Godspeed, Griz!
This Week's Record You're Probably Not Listening To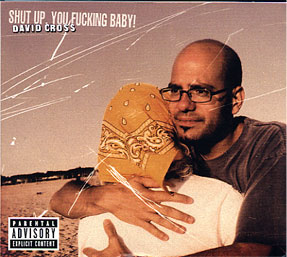 David Cross - Shut Up You Fucking Baby! (2002)
It's Sub Pop's first comedy release and it's damn funny. And I should know because I was at the show, dude. Thank you very much.
Contains the hits "Shaving the Pope's Pussy" and "You Go Girl!"
The only comic who can actually pull off being indie rock. He's violently bald, which helps.
This Week's Hip New Slang Word or Phrase
clitorically speaking - A funny way to sound smart.
Origin - Two Beers.
Usage - "Dude, this show on the History Channel is kind of weak."

"Dude, you just don't get it."

"Then break it down, ace."

"Well, clitorically speaking, I don't think your miniscule mind can grasp what I have to say."

"Dude, I'm leaving."
This Week's Top Ten List
Eric's Top Ten Rock Records of 2002 (That Doesn't Include the White Stripes):

10. tie- NOFX/Rancid split/ Skeleton Key - Obtanium
09. Audio Learning Center - Friendships Often Fade Away
08. Tullycraft - Beat Surf Fun
07. 764-HERO - Nobody Knows This Is Everywhere
06. Pete Krebs and the Gossamer Wings - I Know It By Heart
05. Kaito - Montigola Underground
04. George Harrison - Brainwashed
03. No Knife - Riot For Romance
02. Imperial Teen - On
01. The Widgets - How Come the Kids Don't Dance?
Dishonorable mention: Doug Martsch - Now You Know, Sloan - Pretty Together, Kaia - Oregon (Well, I actually liked half of it.)