12.15.02
Gome of the Week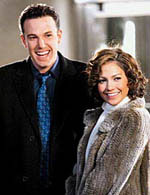 Ben Affleck:
Dude, that video you did with JLo is sooooooooooooooo gay.
The shark has been jumped.
This Week's Link That's Probably Not That Great
Richard Grieco Fansite - Check out his musical career. It's totally going places.
This Week's Movie You've Probably Never Seen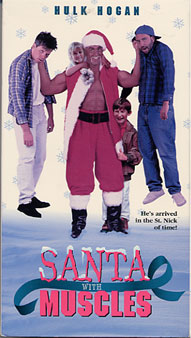 Santa With Muscles (1996)
Ohmigod the gods are kind to me: Santa With Muscles. A Christmas movie with Hulk Hogan and Ed Begley Jr.? Forget about it. Seriously though, a star performance by Begley as the villain who just wants to close down that pesky orphanage. Director John Murlowski honed his skills on this mammajamma before he directed Richie Rich's Christmas Wish. He definitely traded up.
Believe it or not this fine feature did open up in the theaters. It played for one week at the Keizer cinemas a month before they shut down. Connection? You be the judge. Hulk Hogan, you're santa-rific!
P.S.- This movie is deep in the IMDB's bottom 100, number 39 to be exact. I like it though.
(This week's review by Biff)
This Week's Record You're Probably Not Listening To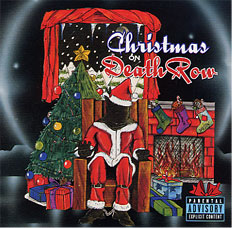 V/A - Christmas on Death Row (1996)
I would say this album is about 90 percent crap, but the good 10 percent is pretty damn good. Appearances by Snoop and Daz and Kurupt bring all the holiday cheer straight from the ghetto. Then there's a bunch of traditional xmas songs sung by some super wuss dude.
And the cover of the album rules.
This Week's Hip New Slang Word or Phrase
Dude Patrol - A group of dudes, usually rolling into a bar together. Usually there is backwards hats and/or leather jackets.
Origin - The Tonic Lounge.
Usage - "Dude, this bar is pretty tight. I like the dude to chick ratio."

"Dude, I would turn around before you speak and check the door."

"Oh no, it's the Dude Patrol."

"Dude, weak."
This Week's Top Ten List
Eric's Top Ten Hip Hop Records of 2002 (That Doesn't Include Blackalicious):

10. tie - Atmosphere - God Loves Ugly/ Murs & Slug - A Tribute to Christina Ricci
09. Xzibit - Man vs. Machine
08. Gravediggaz - Nightmare in A-Minor
07. Sleep - Riot by Candlelight
06. mcenroe - The Convenience EP
05. Sunz of Man - Saviorz Day
04. Eminem - The Eminem Show
03. Jurassic 5 - Power In Numbers
02. Hip Hop Wieners - All Beef No Chicken
01. GZA/Genius - Legend of the Liquid Sword
Dishonorable mention: Killa Beez - The Sting, Snoop Dogg - Paid tha Cost Ta Be tha Boss, Ol' Dirty Bastard - The Trials and Tribulations of Russel Jones