10.13.02
Gome of the Week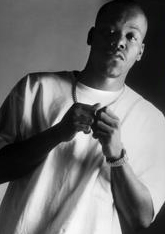 I was listening to my copy of the Juice soundtrack on cassette this week in my car and I came across a Too $hort song and remembered what I have known for such a long time: He is a really crappy rapper.
I just needed to get that out in the open.
Thank you.
This Week's Link That's Probably Not That Great
Who Would You Kill? - A little disconcerting, but it is kind of funny and features some good links to other sites.
This Week's Movie You've Probably Never Seen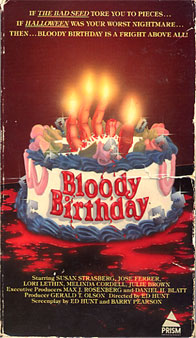 Bloody Birthday (1981)
Yes, it's getting towards that great Hallow's Eve, so it's time to start showcasing some really bad horror flicks.
If you can't tell, those candles on the cake are actually fingers, so look out!
Some high points of this scary flick: Julie Brown (not the downtown one, the real one) makes her feature film debut and totally takes her shirt off. Another fun fact: This film features a young Billy Jayne, aka Mikey from Parker Lewis Can't Lose.
"It's one birthday invitation you can't refuse!"
This Week's Record You're Probably Not Listening To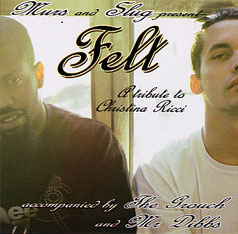 Felt - A Tribute to Christina Ricci (2002)
While this is not an actual tribute to Christina Ricci, we're not going to fault them for that. If you know us, you know that we're big fans of song and album titles that have nothing to do with the actual content within. So, word up to that.
If you're down for underground hip-hop, you've no doubt heard of the Grouch and Slug, because people won't shut up about them. And they are pretty good, so what the shit.
This Week's Hip New Slang Word or Phrase
Check it blee - A great way to start a sentence.
Origin - Airplane II, The Sequel.
Usage - "Dude, I think me and my girl are going to rent Requiem for a Dream tonight. I heard that shit is the gnar-pow."

"Check it Blee, that movie straight up sucks."
This Week's Top Ten List
The Top Ten Working Titles for the "Docu-Drama" Being Filmed on
Hawthorne Street, 3 Blocks Away From Our House:

10. The Times They Are A-Spangin'
09. No More Than 12 Paces Between Coffee Shops
08. I Can't Afford to Feed My Dog But I'm Going to Keep Him Anyway
07. Not All Who Wander Are Complete Fucking Assholes, But Most of Them Are
06. Little Eugene
05. A Dirty Guy and the Five Songs He Knows How to Play on his Guitar
04. The Quickest and Most Effective Ways to Pummel OSPIRG Employees
03. Hemp Jewelry: A Study in Gayness
02. 101 Ways to Reek Really, Really, Bad
01. Bro!!!!