10.06.02
Gome of the Week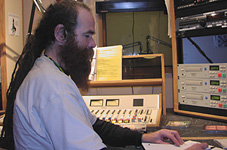 It really doesn't get more annoying than the KBOO pledge drive. I listen to our nonprofit public station sometimes when I'm driving around because occasionally it's good for rants by severely oppressed people. But this last week it's been all about the over-annunciating DJ's making me feel like I'm stealing if I'm not becoming a member with my minimum donation of $60. Of course, that donation does include tickets to the next String Cheese Incident show, so I guess we're all winners! Stinky winners!
This Week's Link That's Probably Not That Great
Pete and Pete - The hippest little kids show in history. They're finally airing reruns of it on digital cable. This is a really comprehensive site detailing the adventures of the two boys.
This Week's Movie You've Probably Never Seen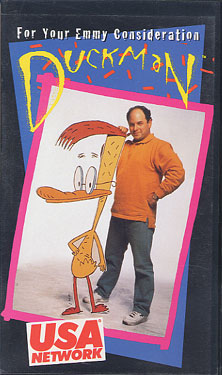 Duckman (1994)
If you've never seen Duckman, you're missing out on a great cartoon that really should have been on HBO so they could swear. But alas, it wasn't, but it's still damn good.
Jason Alexander is the voice of Duckman and there's also a bunch of other celebrity types that make their voices available for this bad boy. David Duchovny, who knew you could actually do something cool?
Also features music by Frank and Dweezil Zappa.
USA network, you almost didn't use to suck.
This Week's Record You're Probably Not Listening To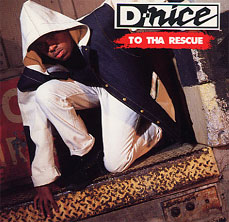 D-Nice - To tha Rescue (1991)
D-Nice returns to show you that he's hard. The hoody, or should I say "tha" hoody lets you know that he don't take no mess. He's coming straight roughneck, biznatch.
Features guest spots by Naughty By Nature and Too $hort just in case you weren't sure.
Classic 90's hip-hop: 12 songs with the first being a prelude and the last being a shout-out. Damn that's dope.
This Week's Hip New Slang Word or Phrase
menage a moi - Pretty self explanatory, see also "one way."
Origin - Biff heard it from a young man named Adrian Black.
Usage -"Dude, so you totally got that coug's number last night."

"Yeah. Dude, she was a little whiskey tango, but what the heezee."

"You gonna call her this weekend?"

"She has to take her kids to some lake or something."

"Looks like you'll be pulling some serious root."

"Dude, it's a menage a moi weekend for me, for sure."
This Week's Top Ten List
biff and Johnny's Top Ten Rock Albums of All Time (This Week) That Doesn't Include The Beatles Because That Wouldn't Be Fair:

biff:
10. Steel Pole Bath Tub - Tulip: Steel Pole's full length from 1991, recorded entirely on their computer, is their quintessential masterpiece. Mike Morasky played "grand theft audio."
09. Joe Jackson - Night and Day: You mean it's got "Steppin' Out," "Real Men," and "Slow Song?" Holy Crap.
08. Long Hind Legs - Long Hind Legs: Pretty to Look At's favorite record of all time. The world's introduction to the singing technique "the sex whisper."
07. Flock of Seagulls - Flock of Seagulls: The Flock's first album is a masterpiece. Seriously.
06. Superchunk: Come Pick Me Up: After 72 years together they finally make the album they've always been trying to make. Dude, Mac can sing?
05. Paul McCartney - Ram: McCartney's overlooked 2nd solo record is far better than that "Band on the Run" stuff. "Too Many People" might be the greatest song of all time. Maybe.
04. Pond - The Practice of Joy Before Death- Once again, computer geeks just geeking it up. Practice is to Pond what Mallrats is to Kevin Smith.
03. Wham! - Fantastic: Laugh if you must, but George Michael was in the zone, pop wise, on this album. Check the leather jackets, blee. Every song could have been a single.
02. Descendents - Milo Goes to College: Hands down the greatest punk album of all time in my book. All four guys write songs and know their way around their instruments. The kids don't do it like they used to.
01. Unwound- New Plastic Ideas: Simply put, this is the greatest thing ever. If you don't own
this, than you and I can't be friends.

Johnny:

10. Fugazi - Repeater: It's not easy to pick one by these guys, but if you have to, this is it. Proved to me that you can be self-righteous and not suck at all.
09. Pond - The Practice of Joy Before Death: Best album recorded in a basement ever.
08. T. Rex - The Slider: Marc Bolan gets really famous and laid a lot and somehow goes the introspective route. This is real glam rock, motherfucker.
07. Pixies - Trompe Le Monde: I still listen to this all the time. "No dude, Surfer Rosa is better!" That's you saying that and you're wrong.
06. Elliott Smith- XO: I would like to act like I didn't have this album in my car stereo for a year straight, but that would be false. If you are bitter towards girls and live in Portland, this is your personal soundtrack to get drunk to.
05. Faith No More - King for a Day, Fool for a Lifetime: If you are bitter towards humanity and live anywhere, this is your soundtrack to drink coffee to and then chase it with whiskey.
04. Supersuckers - La Mano Cornuda: 35 minutes that will kick you in the nuts and then laugh.
03. Talking Heads - The Name of This Band is Talking Heads: The best live album I've ever heard, it goes from their early stripped down stuff all the way to the bigger band stuff and proves that they were easily the best "new wave" band ever.
02. The Mothers of Invention - We're Only In It for the Money: About as perfect as it gets. Frank Zappa takes his hippie fan base and tells them to go fuck themselves. Brilliant.
01. Frank Black - Teenager of the Year: If you stopped listening after the Pixies, then you're an ass.
22 perfect songs from the smartest songwriter of the last fifteen years.