07.14.02
Gome of the Week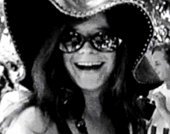 Girls who sing Janis Joplin songs at karaoke:
Please stop this as soon as you can. The Mercedes Benz song sucks, Bobby McGee really sucks, and Little Piece of my Heart is impossible to do justice to, so just sing some Veruca Salt and sit back down with your hard lemonade before I pull all of my hair out.
And tip me, goddammit.
This Week's Link That's Probably Not That Great
J. Keith's Official Site - Yes, he's been fired from Beat the Geeks, but you can still track him down on the internet. See what he's up to.
This Week's Movie You've Probably Never Seen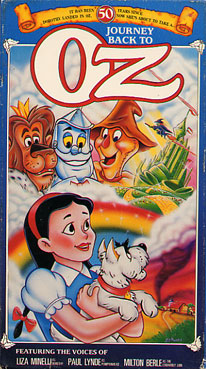 Journey Back to Oz (1974)
A bizarre cartoon sequel to the original that features Liza Minelli (Judy Garland's daughter, duh) as Dorothy along with a bunch of old people like Milton Berle and Mickey Rooney.
Is doing a sequel to a movie like this ever a good idea, especially if it's going to be poorly animated in the early 70's?
A fun fact: in the TV version, Bill Cosby is the voice of the Wizard of Oz.
Dude, who cares.
This Week's Record You're Probably Not Listening To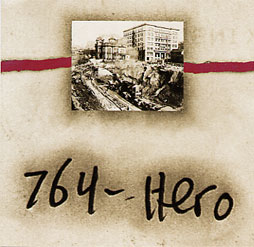 764-HERO - We're Solids (1997)
Have you just been dumped? Do you like to drink copious amounts of alcohol and listen to someone who's feeling the exact same pain as you are? Then this may just be the record for you.
7 songs about drinking alone and obsessing about someone who just doesn't give a shit anymore.
Such a great record, but be prepared to cry yourself to sleep. Cheers!
This Week's Hip New Slang Word or Phrase
pulling root - Jerking off.
Origin - Dudes say it a lot, Half N Half reminded me of it this last week.
Usage - "Dude, do you wanna go to the Ohm tonight and put some glow sticks through our tongue piercings or what?"
"Dude, I don't know. I'm kind of tired. I huffed a lot of blow last night."

"Sweet dude. So you just gonna stay home and pull root?"

"Come on dude, don't give me any shit."

"Whatever, root puller."
This Week's Top Ten List
Brad's Top Ten Favorite Songs Right Now, Some of Which Are Pretty Bad:

10. "Oh No" by Daz Dillenger - Kinda gets me a little worked up, even after 4 years of listeningto it.
09. "Lead Pipe Cinch" by Local H - One of my favorite guilty pleasures.
08. "Grindin'" by Clipse - I watch the video every time it's on BET and the beat straight kicks ass.
07. "It's All In Your Mind" by Beck - An old acoustic song that he put out on K Records that always makes sense to me, no matter what, and I don't know if that's good.
06. "Cigarettes Will Kill You" by Ben Lee - I totally forgot the song even existed until someone recently reminded me and now I remember why I was secretly obsessed with it for a while.
05. "Disconnection Notice" by Sonic Youth - Their whole new album is amazing.
04. "Hit it Run" by RUN-DMC - They are sweet when they swear.
03. "It's OK" by Slimm "Cutta" Calhoun - It's summertime and this is the anthem, 'cos all the ladies keep calling me and paging me and blowing me up and it's OK.
02. "White Lines (Don't Do It) by Grandmaster Flash and Melle Melle - Sugar........Cane.
01. "Dance Hall Days" by Wang Chung - Will always win.