05.19.02
Gome of the Week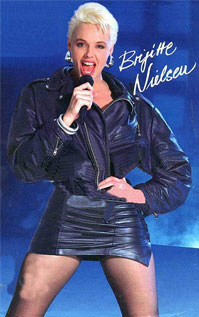 People who don't think Brigitte Nielsen is the coolest girl ever:
You know you love her, it's OK to admit it.
If you haven't seen Murder by Moonlight, you are missing out on a sweet hour and a half of made for TV movie debauchery that is hot shit, Nielsen style.
We're going to try to get her to rekindle her singing career on the next CAC record.
This Week's Link That's Probably Not That Great
Brigitte Nielsen - Some interesting info and lots of really sweet pictures of one of the greatest ladies of all time.
This Week's Movie You've Probably Never Seen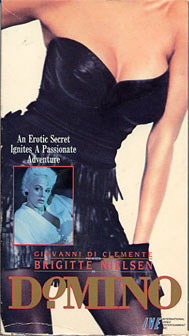 Domino (1988)
Yes, it's Brigitte Nielsen week here at Sly Records and we wanted to put up a really great movie of hers, so here it is.
We're pretty sure that this is the first movie that she did after her sloppy divorce from Stallone, and it's kind of a weird one. It's supposed to be a classy art house flick but doesn't really make it all the way there.
A series of bizarre occurences spliced with some sweet nudity, Nielsen style.
Proof that she can make anything enjoyable.
This Week's Record You're Probably Not Listening To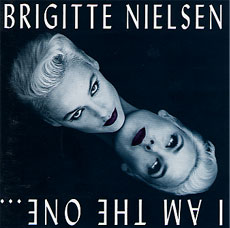 Brigitte Nielsen - I Am the One... (1991)
This is such an import we can hardly believe it. We think it's German but maybe it's from Sweden, who the hell knows. The lyrics on the inside are in English, if that counts for anything.
Anyway, it's such a weird record, and by weird I mean it opens up with a cover of "My Girl" that she changes to "My Guy".
Very reminiscent of the Dream a Little Dream Soundtrack. Big letdown: No pictures of her on the inside. Dude, weak.
This Week's Hip New Slang Word or Phrase
Nielsen style - A good way to describe really hot tall girls, in the style of the lovely Brigitte.
Origin - Wockenfuss, five minutes ago.
Usage - "Dude, did you see that girl? She's gotta be like 6'3"!"

"Dude, that chick is nails, Nielsen style."

"Dude, sweet."
This Week's Top Ten List
The Top Ten Best Brigitte Nielsen Movies Ever:

10. Beverly Hills Cop II
09. Body Count
08. Double O Kid
07. Murder By Moonlight
06. Chained Heat II
05. Domino
04. Rocky IV
03. Snowboard Academy
02. Red Sonja
01. Galaxis
Note: eric b. would like everyone to know that Cobra did not make the list as a
result of her spotty hairdo in that film. So don't bitch.