12.16.01
Gome of the Week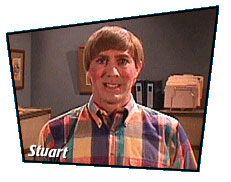 I'm calling out Mad TV. And even more specifically, this guy. I'm not really clear on why America thinks a six foot seven child is funny week after week. It's called visual hyperbole people, it's not revolutionary.
The show is just not that funny. I mean, maybe they should call it Mad WT, if you know what I mean. Or the white In Living Color. Speaking of race, has anyone made a big deal of the dumb asian woman skit that is running every time I flip by this show? In a world where people wake up every morning waiting to be offended by the smallest things, how does this slide through the cracks? I'm suddenly offended that the easily offendable are not offended.
In Mad TV's defense, they have a really great website, even better than this one. Yes, this war was better fought on the info super highway.
This Week's Link That's Probably Not That Great
View Askew - If you don't like Kevin Smith's movies, then I don't like you. His website is deep, really deep. The most exciting recent news is that Jason Lee will star in a new Fletch movie, one that shows the story of a young Erwin Fletcher trying to make it in the reporting game.
Do it Doug.
This Week's Movie You've Probably Never Seen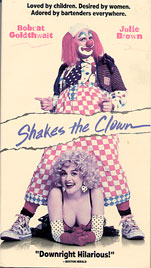 Shakes the Clown (1991)
Alright, before you start to get all excited about the fact that you've seen this movie, let me say that it's certainly not one of the most obscure ones that we've dragged out here and scanned in. It may however, be the best one we've offered up. I recently re-watched this film and realized that it may become my religion.
A young Adam Sandler, a cameo appearance by Robin Williams, Julie Brown and her cleavage, rodeo clowns doing blow, this film has it all.
If you've never seen this film, please don't visit this site again until you have. We don't like to be associated with common film trash like you. Turn off Corky Romano and go get it.
This Week's Record You're Probably Not Listening To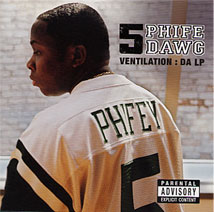 Phife Dawg - Ventilation: Da LP (2000)
Didn't we all kind of know that he was the coolest one in the group? While Q-Tip's running around in fur coats in Janet Jackson videos, Phifey was at his mom's place writing some actual rhymes. He even calls out Mr. Tip on the single. The single! What a gutsy mofo.
Curious acoustic guitar intro and outro can be skipped for best performance.
"And if I ever went solo/ my favorite MC would be me....."
This Week's Hip New Slang Word or Phrase
maple bar - The area between the genitals and the anus.
See also - taint, choad, fleshy fun bridge, gobbler.
Usage - "Dude, she wants me to shave my maple bar and I think I'm gonna do it."

"Dude."
This Week's Top Ten List
eric b's top 10 hip hop records of 2001 (that doesn't include the coup):
10. young mc- ain't goin' out like that
09. 8ball- almost famous
08. oldominion- one
07. killah priest- priesthood
06. ghostface killah- bulletproof wallets
05. daz dillinger- who u ride wit
04. kool keith- spankmaster
03. wu-tang clan- iron flag
02. dpg- dillinger & young gotti
01. killarmy- fear, love & war
dishonorable mention- rza- digital bullet, remedy- genuine article, 8ball
presents the slab
eric b's top 10 rock records of 2001 (that doesn't include the strokes):
10. fantomas- director's cut
09. rally boy- hooks & crutches
08. tomahawk- tomahawk
07. karp- action chemistry (b-sides)
06. fugazi- the argument
05. butchies- 3
04. paul mccartney- driving rain
03. superchunk- here's to shutting up
02. made for tv movie- story of my heroics
01. unwound- leaves turn inside you
dishonorable mention- melvins- electroretard, melvins- collosus of destiny