11.25.01
Gome of the Week
Get ready for it. It's that magical time of year when artists everywhere are hit up for their lists and there is always the self-obsessed egomaniac who has to list his/her own record. Some of these self promoting jackasses even have the gall to put it first.
An example comes from the new Interview magazine, in which they asked Missy "Misdemeanor" Elliott what her favorite record of 2001 was:
"My favorite CD of 2001 is my album Miss E.... So Addictive because I had a lot of fun making it and Timbaland and I went in a lot of new creative directions this time around."
Just because nobody bought it is no reason to keep talking about it. Let it go.
This Week's Link That's Probably Not That Great
Ugly People - Anyone who followed the old site we had up knows that we've put this on a link list before, but it really is worth repeating. It's super mean, but get over it. You can vote on the ugliness of these poor saps and look at their ugly rating. Browse through ugly men, women, couples, and celebrities. Is Tiny Tim really that ugly?
This Week's Movie You've Probably Never Seen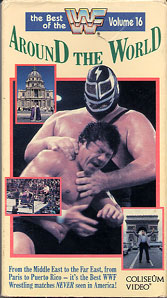 WWF Around the World (1987)
ONUG and I sat down at 3:30 in the morning last week to watch this little piece of wrestling history. He had purchased it for eroc the white mystery and we figured we might as well treat ourselves to a little preview.
Well, after about an hour and a half of pure old school mat-slapping bliss, the screen went fuzzy and now the damn tape won't come out of my VCR. But what I saw was incredible. All the matches take place in foreign countries and very little of the commentary is in English. There are also slightly uncomfortable interludes with Mean Gene, Frenchy Martin, and Outback Jack. Not so PC, if you know what I mean.
The highlight was probably an outdoor match in Puerto Rico between The Killer Bees and Barry O and Iron Mike Sharp. It's pouring rain throughout the entire match and everyone in the huge stadium has already gone home. Very surreal.
That masked guy on the cover is Andre the Giant, in case there was any confusion about that.
This Week's Record You're Probably Not Listening To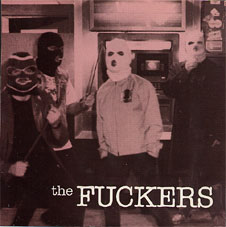 The Fuckers- "Block Party" b/w "A Goddamn Anthem About MAN, the General of the Motherfucking Global Forces of Fucker Chaos" (1992)
These are the only two songs the Fuckers ever did, as far as I know. I once heard a rumor that this is Seaweed recording under a different name, but I can't say for sure if that is true or not.
I saw this record once, bought it, and never saw it again. It's pressed on blue swirly vinyl(as a lot of the Sub Pop 7"s were at the time), and I like to think of it as a slight collector's item. And the songs ain't half bad.
In case you can't tell, these chaps in the ski masks are standing in front of an ATM. Watch out!
This Week's Hip New Slang Word or Phrase
The bomb-ass chronic - Another phrase signifying the coolest of the cool.
Origin - I'm sure people use it to describe pot all the time. 4:20 is the best time to get high. Pigpen came to me
in a vision and told me.

Usage - This is a conversation that occured between eroc's roommate and some dude many years ago:
Dude - "Dude, I heard you got an apartment and that shit is the bomb-ass chronic! Can I come over?"

C-Dog- "No."
This Week's Top Ten List
The Top Ten Ill-Advised Musical Guest Appearances, Part One:
(I say part one because I really mean it, there are so many this will only break the surface a little bit.)

10. Cypress Hill with whatever crappy rock group is playing with them.
09. Gwen Stefani on that Moby song.
08. Q-Tip and Bootsy Collins on "Groove is in the Heart" by Dee-Lite.
07. Outkast on either the Lenny Kravitz remix or the Monica album.
06. Nas on Raekwon's Cuban Linx album. Only bad part of the whole thing.
05. Slash on the Michael Jackson TV special last week.
04. NWA on that Michelle' song. Why?
03. Ol' Dirty Bastard on that Mariah Carey Tom Tom Club rip off song. Ouch.
02. Method Man on that Limp Bizkit song. Must have given him a gang of weed.
01. Stephen Jenkins on the new RUN-DMC record. What better way to show
you're clueless and out of touch, not to mention cancelling your career.